Rooms & Grounds
Enjoy a relaxing stay in one of our 8 beautifully appointed guest rooms. All of our rooms have TV, internet access, and private baths. They are also furnished with Amish made furniture. Additionally, some of the guest rooms have fireplaces and balcony access with views of Bellville's downtown. Room rates start at $145 per night.

Alta's room is the only guestroom on the first floor and ADA compliant. The room was named for Alta Smith, Brad's grandmother, overlooks the patio and gardens.
Learn More »

On the 2nd floor,overlooking the village green with access to a balcony is Bill and Jewelene's room. Named for Brad's father, Bill, and his wife, Jewelene.
Learn More »

Cassie's room is one of our larger rooms, with great amenities. On the 2nd floor at the rear of the building, this room overlooks the village green on one side and the patio and gardens on the other.
Learn More »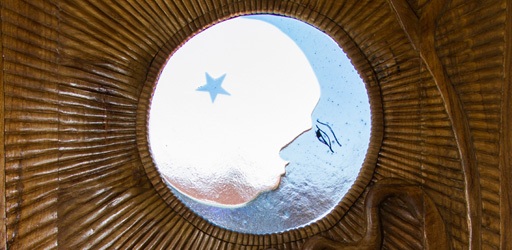 The Wishmaker House has several beautiful common areas for guests to enjoy! Relax by the fire in the living room or when warmer enjoy the outside patio area. Our winery and wine bar is now open. We have many different and delicious house wines to choose from, as well as several wines and beers from around the world. Light meals are served in our wine bar on Thursday, Friday, and Saturday 4pm-10pm.
Learn More »

This room is named for Mike and Rosemary Myers, former owners of the Wishmaker House, when it was known as Myer's Furniture Wishmaker House.
Learn More »

On the 2nd floor, at the top of our beautiful staircase is Nancy's room, named for Brad's mother. The room overlooks Main St. and has an electric fireplace with original tiles.
Learn More »

The outside of the Wishmaker House is just as nice as the inside! Our one of a kind front door is truly like no other! Enjoy refreshments on our gorgeous patio!
Learn More »

Paul and El's room, named for Karen's parents, overlooks the back alleys of Bellville. This room has a more masculine look to it.
Learn More »

On the third floor of the Wishmaker House is a 1200 sq ft suite. This room is spacious and light filled, with views of the village from several dormer windows.
Learn More »

On the 2nd floor at the top of the stairs is Whitney's room, named for Brad and Karen's daughter in law. This room features colors of raspberry, chocolate brown and paprika.
Learn More »
Join us for an evening of live jazz music on the patio with Just Jazz! Weather permitting! ...